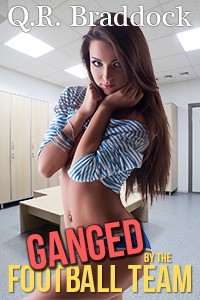 It's not easy to be the new team mascot. The suit's hot, the job's tiring, and after the game, you get gangbanged by the whole football team! It's hard work, but a girl's got to do what girl's got to do, giving it all to everyone from the team's MVPs to the waterboy, and even the well-hung Coach. And they all cream in her, bare and unprotected.
Brand new spanking new release on Amazon, Amazon UK or your favorite Amazon storefront for some wild sexy gangbang action! Grab it while it's hot!
Almost all of my books are free to borrow at any time if you have Kindle Unlimited! Hope you enjoy them, and please don't hesitate to leave a review!
Thank you so much!
---
Kevin pulled away, leaving me gasping for air after that kiss. God, he was a good kisser. His beautiful eyes gazed into mine while he pulled his towel aside. I didn't know where to look, so my eyes flitted up and down between his face and his… well, further down.
He was long and really hard, standing right in front of me, so close that the glistening tip was almost touching my stomach. I licked my lips, taking in the size of it. He looked a lot bigger than Dave.
The guy behind me put weight on my shoulders, pushing me down to my knees. I didn't even resist. Face to face with Kevin's huge cock, it was pretty obvious what they expected of me, but I'd never done it. I wasn't sure how. Dave and I had just fucked in the dark. I wasn't prepared for this.
They obviously had expectations, though, so I leaned forward tentatively, opening my mouth. He tasted salty with sweat but it only excited me more. I sucked, trying to avoid touching him with my teeth, but I was sure I wasn't doing it right.
He confirmed it when he spoke, "You've never done that, have you?" He smiled, but not in a mean way. With his thick cock still between my lips, I shook my head gently. Instead of replying, he ran his hand through my hair, stopping about halfway through so he could grip it. "I'll show you. Just work your tongue underneath it."
Then he tugged me back and forth by my hair, forcing me to bob on his length. He began to thrust as well, sometimes bumping into the back of my mouth. Each time made my stomach lurch just a bit, but I could handle it. When he pulled off, two more guys stepped up, and I realized I was about to get a lot of practice.