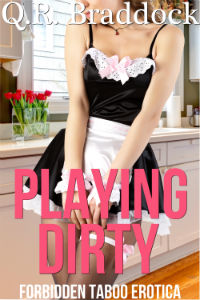 "I'm not afraid to get down on my knees and make sure the job is done right."
I've been saving myself for someone special. Someone who'll take care of me and treat me right. He'll be strong, handsome, wealthy and know exactly how to make my first time feel good. Isn't it lucky that I don't have to look far? My stepfather Eric has always been there for me. Now it's my turn to be there for him.
What I want is so taboo that I'll have to play dirty to get it. Good thing I have the perfect outfit for cleaning up. My skimpy French maid costume is sure to get his attention, and once I have it, he won't be able to resist showing his little brat who's in charge.
Free until November 16th! Pick up your copy at Amazon, Amazon UK or your favorite amazon storefront. Also available on Kindle Unlimited!
As with every release, I hope you guys enjoy it, and if you do, it would make me so happy if you were to leave a review! It helps my sales, which in turn makes me able to write these stories for you. :) Thank you for reading!
---
Excerpt: Reciting as if I was starring in a commercial, I began what I'd rehearsed in my room earlier. "Maid To Order: Why should you do all the rubbing and grinding when I can do it for you? Available for work immediately, I'll take care of anything you want me to. No job is too dirty, too filthy or too humiliating."
I turned to him and put my index finger right in the middle of his chest. "I'm here to make sure you're completely satisfied, and I'm willing to put my ass on the line to prove it."
Pulling the finger down over his cotton shirt as I lowered myself, I felt every ridge of his firmly sculpted chest, every bump of his sixpack. "I'm not afraid to get down on my knees and make sure the job is done right." I grinned. "I don't have any references yet, but I hope I can convince you with my enthusiasm and willingness to do anything the job requires."
I looked up at him through my lashes and put my hand on the huge bulge in front of me. It twitched. "Anything." I almost whispered it.