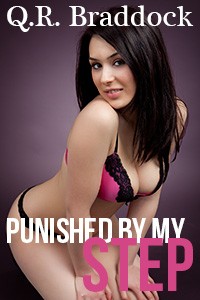 What do you do when you leave a huge scrape on your mom's car while borrowing it without permission while she's away? Panic, of course. But when your stepdad suggests an alternative arrangement, where you can choose to accept his punishment instead of having to tell Mom, do you do it? And do you end up liking it? And do you let him finish in you even if you might get knocked up?
Of course! ;)
Brand new release on Amazon, Amazon UK or your favorite Amazon storefront for some both rough and sweet stepdad/stepdaughter taboo sexy times! Grab it while it's hot!
Almost all of my books are free to borrow at any time if you have Kindle Unlimited! Hope you enjoy them, and please don't hesitate to leave a review!
Thank you so much!
---
The craziest thing wasn't that I was under my stepfather getting my boobs abused, but how that made me feel. My panties clung to me, soaking wet and my legs spread on their own, as if they already knew where they wanted him.
"Daddy…"
"Shush, Pumpkin. It's time to pay up."
He grabbed instead of slapping and trapped my nipple between his fingers. He twisted, making me scream. When he let go, I felt my blood pulse through it, making it throb. "Ok, get up. Up on your feet." He yanked my arms up, making me follow.
He crouched in front of me, his hands sliding right up under my skirt, following the curve of my thighs until he gripped my tender ass cheeks. "We're not done with these yet, baby, not by a long shot. This time, I'm gonna spank you like it's supposed to be done, with nothing between to protect you."