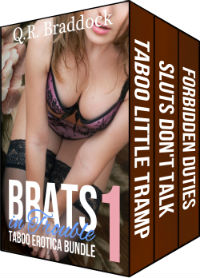 Did you miss these releases the first time around? Now's your chance to get them bundled up for the price of a single story!
---
"It's a hard lesson, but I hope you learned something."
What do you do when your stepdaughter cops an attitude? Wants to play rough? Craves your discipline? At home, in the office or during an illicit hotel quickie, these three brats have one thing in common. They need a lesson only their stepfathers can teach. Wild behavior won't be tolerated, even when it takes much more than a firm hand to do the job.
Featuring three taboo stories of young women getting what they deserve from the men closest to them, this bundle is packed with almost 15,000 words so forbidden you'll just have to look inside to see what it's all about.
---
Taboo Little Tramp
"A… Andrea. What are you doing? This isn't…"
His chest was warm under my hand. I looked up at him, locking my gaze to his and sinking down to my knees, dragging my fingers through his chest hair towards the towel.
"Please, Daddy," I whispered.
He quivered under my hand, but did nothing to stop me. The lump had grown, and was pushing the towel way out in front of him. Leaning forward, I kissed the tip through the soft cloth, leaving a little red lip stain on it.
"Make me earn my money."
Forbidden Duties
"Elise."
I held my breath.
"Please lock the door to my office."
I beamed. "Yes, sir!" With an eager step I obeyed. My nipples crinkled up into tight little points and moisture was already forming between my legs in anticipation. Was this really happening? I couldn't quite believe it. Returning to stand right behind him, I waited for further commands.
"Kneel."
Sluts Don't Talk
"Now, I didn't raise a slut, but if you insist on being one, you will be punished like one." He dragged me by my hair, not to the couch this time but to our low wooden coffee table. Normally there was tons of crap on it, but it was cleared off tonight. All part of his plan? Forcing me to my knees, he bent me over so my stomach and chest lay across it and my head hung forwards over the edge. I stared at the hardwood floor, waiting.
He lifted my skirt and drew a sharp breath when he saw only bare skin. "Or maybe I raised a slut after all."
---
Get it now at Amazon or Smashwords! Coming soon to Barnes & Noble!