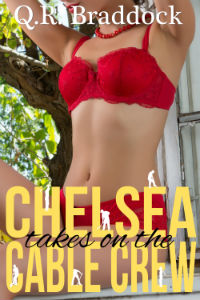 "Three at once is hard enough, but all six?"
All my life I've been the good girl, the one that never got in trouble. Even this time, all I want is a little help… Actually, that's a lie. Six gorgeous, hard-working men are right outside my house, and all I want is to invite them in, and I don't mean through the front door. Dark, light and every delicious color in between, I want them all. Finally an adult, my first real experience with men is about to get started with a big sloppy bang.
---
Something wet and soft swiped over my sex and I squealed. Oh God, it's his tongue. Its broad, insistent strokes kept me balancing up on my toes as it slipped between my folds. I wanted to push back at him, but didn't have the leverage.
He played me like an instrument, setting off little tremors that ran my straight through my core. There was an orgasm on its way, quickly. Quivers shot through me. My breath came in shorter and shorter gasps, and I was just about to go over the edge when he stopped and rose behind me.
I whined. "What are you…?"
"Sh, sh, sh, little miss. Here comes the big event." The sound of his zipper was followed by the rustle of cloth. "This will sting a little at first, but I'll go as easy as I can."
I clenched my eyes and waited with a mix of excitement and dread. Losing my virginity bent over my kitchen counter with a guy from a cable crew wasn't exactly the romantic scene I'd envisioned, but it didn't matter. This was good. Horny and dripping, I was ready. Now.
Get it now at Amazon US, Amazon UK or your local Amazon store!