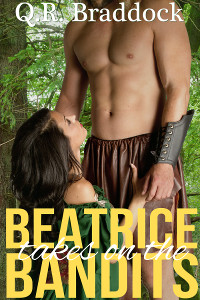 Who hasn't dreamed of being taken by a whole band of handsome highwayman at some point? Not just me, right? Anyway, that's what's about to happen to poor Beatrice, a clever thief in her own right, out to seduce the secret of the bandit's treasure out of one of them. As usual, it spirals a bit out of control, and suddenly she has all the medieval robber members she can handle at her disposal! And who's their mysterious leader anyway? Beatrice Takes On The Bandits is up on Amazon for FREE until November 6th!
And for those of you who like a little taboo action more than big groups of hunky guys, keep an eye on this spot in a few days. I've got something coming for you too.
Pick up your copy on Amazon US, Amazon UK or your nearest Amazon storefront! It's also available via Kindle Unlimited.
As always, if you enjoy the story, pretty please leave a review to help others find it. Thank you!
---
"We are sworn to share everything. Food, coin… even women."
The highwayman came for our gold, but he left with my heart. That chance encounter lit a fire in my soul and gave me the courage to leave my dull existence behind to begin a new life of freedom.
Five years later, I'm living the life of a thief and scoundrel. A daring plan gone awry puts me at the mercy of an entire band of far too handsome rogues. Their lusty demands remove every last trace of my innocence, but it's a price I enthusiastically pay, because their camp hides both riches beyond imagining, and the powerful man who still haunts my dreams.
---
As if it were a signal, hands appeared everywhere. On my thighs, my back, my belly, my right breast. I squealed into Alan's mouth as fingers pinched an erect nipple, not enough to truly hurt, but more than enough to startle.
Tom explored me with his mouth, down the underside of my breast and onto my stomach. Immediately the breast he left was covered by a tan hand. He continued to my navel, tickling it with his tongue, flitting it about. I might have shied away from the sensation, but I had nowhere to go, surrounded as I was.
Sweet kisses were at my neck, nibbling at my hip. Someone nipped my shoulder. I drowned in a sea of lips and hands, and all the while Tom moved lower and lower, now kissing over my mons. Wasn't that dirty? I had of course heard of such a thing before, but I hadn't quite believed it.
When he finally touched that little nub just above my folds, a quiver raced through me and I gasped. I softly moaned. He put nips and kisses on my folds, and it was good the other men held me as I didn't trust my legs to hold me. How could something so strange feel so good?
---
Get it at Amazon US, Amazon UK or your local Amazon store! It's also available as a Kindle Unlimited book at any time. Again, please leave a review, and thank you so much for reading!