Hi everyone!
This bundle release isn't technically one of mine, but I'm very excited to have a story in it, along with nine other very talented erotica authors. If you enjoy stories of all sorts of step-relatives being naughty, then you can pick this up for the price of a borrow in Kindle Unlimited, or for only 99 cents if you're not a Kindle Unlimited subscriber. Either way, it's a great deal!
The bundle is released by The Naughty List, which is a wonderful newsletter service that drops a new email every day into your inbox with links to free and discounted erotica. I both use it to promote and to find my next steamy reads. Learn more at http://www.naughtylistbooks.com/.
---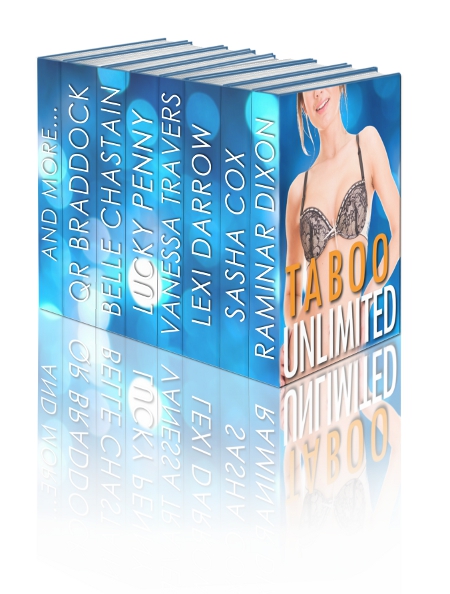 AMAZON-ONLY EXCLUSIVE. LIMITED RUN OF 90 DAYS!
Sometimes you want something you know you shouldn't want. The thought of it gets down deep inside you, thrumming in time with your racing pulse and driving you wild, doesn't it? It's so wrong, so naughty to get so aroused by those thoughts…but you just can't resist. You don't know how much longer you can last before you give in and let that sweet, taboo fantasy flood your mind and take control.
Feed your most wicked fantasies with The Naughty List's latest, steamy bundle. It's got 10 featured stories from 10 of the hottest authors in the business and clocks in at more than 45,000 words in length. You're bound to find something to tickle your fancy and delight your senses. So go ahead – there's no one here to stop you – it's time to indulge.
Get it now at Amazon US, Amazon UK or your local Amazon store.