Hi everyone!
Fall is here, and the heat was just turned on in my building. Leaves are falling and the temperature is creeping down towards freezing.
So why not celebrate with a hot gangbang, featuring a band of tall, bare-chested, well-hung vikings from the frozen north and a young French girl called Vivienne. The crew has an unusual proposal for her, which leads to a wild romp on the banks of Normandy. I hope you enjoy it!
This release is FREE until September 27th, so get it while it's hot! And if you subscribe to Kindle Unlimited, it is available for borrowing at any time.
---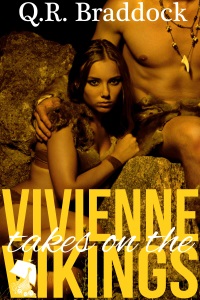 "The whole crew?"
They tell me the decision is mine, but how can I choose between two things I've never known? Would it be better to be a barbarian's stolen bride and perish in a strange frozen land? Or to be free but give up my innocence to the depraved demands of an entire viking crew? Surely choosing my freedom is the safer choice, but the brutal attentions of these fur clad devils might just convince me to do both. To this inexperienced village girl, being pillaged never felt so good.
---
"I… want to be free."
He nodded, obviously getting the answer he expected. Rising from the crate, he unlaced the the leather strap holding his pants together.
I gasped. Somehow I hadn't expected to be doing it right here, right away. Yet they undressed as if it was commonplace to have their way with a woman right out in public. Maybe for them it was, but if what he said about frost was true, I doubted it.
Rolf looked right at me, making sure he had my attention, and with an eager grin, he let his pants pool around his feet. I gasped.
Any village girl has seen livestock mate at some point, pretending to be shocked while watching intently. It always seemed so raw, so matter of fact. And it was the closest we came to the act until we found a man, so this was the first time I saw one so exposed. Not quite so large as a horse's, but it looked monstrous, hard and was pointed right at me.
It was terrifying and yet, my body reacted the way it wanted, disregarding my mind entirely. The rough wool of my tunic felt even rougher as my nips hardened and rubbed against it. My sex demanded attention, its wetness coating the insides of my thighs.
---
Get it now at Amazon US, Amazon UK or your nearest Amazon storefront.